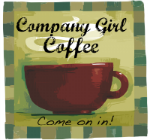 If you're here from
Home Sanctuary
, Welcome! Grab a big steaming mug and join in. You can visit other Company Girls, and find out what Company Girl Coffee is all about,
HERE
.
I've been a little absent this week, spending my time, instead, doing laundry, sorting through baby clothes to pass along to Abby, rearranging bedroom furniture, playing with my boy, hanging out with my man, and spending time with God, asking Him what he wants with this blog. For now, I'm going to start stepping it back a bit, spend more time with my family, friends, and Him.
This week we did decide that I will need to work part time come September. My maternity leave will be over, and on the minimum salary at my husband's job, we can't survive and still eat.
I'm hoping to be able to do something out of my home, but at this point, can't think of anyone who needs child-care, don't have the space to start a small 2/3 day-per-week pre-school, and don't know what other options are out there.
I can't really imagine working outside the home because of my husband's erratic work schedule (he's on call most of the time), so childcare for William would be at 2 1/2 hours notice at most - since that's the notice Andrew gets before he has to be on a train somewhere.
In other news, for those who know him, Ryan, son of Rick and Judy, is in the hospital in Toronto battling liver failure. Earlier this week the doctors said he would need [another] transplant (he had one as a kid), but now, Praise the Lord!, the doctors are saying his liver is functioning better. Doctors are hesitantly optimistic that Ryan may pull through. Their family and friends covet your prayers.